Rembetiko of the Month
August came and went without a Rembetiko of the Month post, so this is the first of two posts for September.
July's post
was a pretty heart-wrenching αμανές (a-man-ESS) by Marika Kanaropoulou (aka Brousalia, Tourkalitsa). You'll recall that I chose it because of the fighting in Lebanon. I suppose there will always be enough misery in the world for αμανέδες, and the Ussak αμανές I chose for this post conveys not only the pain of loss, but a particular type of loss, in this case a child's loss of its parents. It reflects my own frustration with a world in which children are made orphans. Some of my posts in the coming weeks will shed some light on why I'm spending so much time thinking about these things.
Click here to listen.

Κοιμήσου γιατί χάσαμε, παιδί μου, τη μαμά σου.
Νά σέ φιλήσω, μάτια μου, νά δρόσει την καρδιά σου.

Νίνι, νάνι.

Άμαν, σε μιά στιγμή ορφάνεψες καί έχασες τη φολιά σου.
Μέρα καί νύχτα αγρυπνώ, παιδάκι μου, παιδάκι μου, κοντά σου.

Νίνι, νάνι.

Sleep, my child, for we have lost your mother.
Let me kiss you, sweetheart, to cool your burning heart.

Sleep, sleep.

Aman, in an instant you were orphaned and lost your nest.
Day and night, I will keep watch over you, my child, my child.

Sleep, sleep.
Grigoris Asikis (1890 – 1967) was born in Constantinople and migrated to Greece in 1922 following the
Asia Minor catastrophe
and the ensuing population exchange between Greece and Turkey. Recognized as one of Greece's best oud players, Asikis (pictured left ca. 1930) probably recorded this haunting melody in Athens in the early 1930s accompanied by Lambros Leondaridis on lyra. It is featured on
The Rough Guide to Rebetika
compilation.
The liner notes conclude that the song is a lullaby for an infant that has lost its mother in childbirth. That may very well be, but when I listen to the poignant lyrics, I am transported to the tragic scene that unfolded on the quais at Smyrna in late September 1922.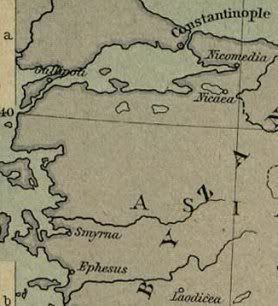 As the city burned, tens of thousands of Greek and Armenian refugees fled to the waterfront to escape Atatürk's army. Trapped between the flames and the sea, they cried out to the warships of the Great Powers anchored in the harbor who refused to grant them passage. Thousands perished. Mothers watched as their newborns starved or died of exposure. The elderly and infirmed soon met a similar fate.
The men were rounded up by the soldiers and either shot dead or sent to work on labor battalions in the Anatolian interior. Without the protection of their fathers and husbands, many of the women were raped and killed. Children watched in horror as their mothers and fathers were taken from them. It is these children that I think of when I hear this song. And it's not just them. I think also of Lebanon, Israel, Iraq, Darfur, and all the other places in the world where war has robbed children of their safety, their homes, their parents, and their innocence.
I feel as though I need to say a word or two in conclusion to my readers in Turkey, some of whom may be offended by what I have written here. It is not my desire to alienate you. However, in alluding to the horrific events that took place in Smyrna in 1922, I have told the story as I believe it happened and according to the firsthand accounts of eyewitnesses. If these things are difficult for us to hear, they were more difficult for those who experienced them. I have never denied, moreover, that during the fighting between the Greek army and Atatürk's nationalist forces in Asia Minor in the years following the First World War, atrocities were committed on
both
sides.
Facing history takes courage. Anyone who reads this blog should have no difficulty recognizing that I myself am not the least bit romantic about America or her past (or Greece for that matter). I do not close my eyes to her blemishes and misdeeds when I learn of them, because to do otherwise is not only dishonest, but represents a perverse and distorted form of patriotism. That's not for me. The truth matters, even when it's harsh and unflattering.
I ask my Turkish friends to consider this: If I refuse to ignore my own country's sins, how can I begin pretending for another country?