A Piano Should Fall on His Head
I'm sorry, but Cardinal Sean P. O'Malley's recent attempt to appear relevant to the next generation of young Catholics is just too lame. He's created a
blog
to record his recent trip to Rome, and the entries are peppered with cutesy little anecdotes, photos, and lots of "LOL's". In a recent entry he writes: "I also think it's amusing in a way because I feel like I'm on some reality television show on MTV…lol." Gag. What would that MTV reality show be called, I wonder?
"Newlyweds: Sean and Mitt"
?
"Womb Raiders"
? "Pimp My Altar"?
I know I'm not alone when I say that it makes me want to vomit when the bastions of backwardness try to show how hip and cool they are with meaningless gestures and nods to pop culture. Perhaps it's just me, but spreading religious bigotry and marginalizing queers and women just ain't cool.
Of course, there are plenty of gullible young Catholics who think otherwise, as demonstrated by this comment from a student at Boston College High School:
"Wow those pictures are awesome! Cardinal Sean, you rock. Honestly, you're the coolest cardinal in the whole church."
I bet you wouldn't think that if you were gay, dude. Or maybe you are and just haven't realized it yet.
As is customary for a blog, his contains a link to his
profile
, which brings you to a brief bio and a list of his turn-ons, which include self-mortification, the rosary, incense, and sandals. His turn-offs include women and gays. Just kidding (though I'm sure I'm not far off the mark).
And what is with the accent mark in Seán?? It seems a tad bit gay to me.
Because O'Malley was in Rome to attend the Padre Pio Masses, his blog contains many photos of Padre Pio-related events and locations. Below is one of the photos he took at a Padre Pio shrine in Rome with the caption: "A beautiful marble sculpture of Jesus and Padre Pio. It was created from a single block of marble." Notice the position of the padre's hand on Jesus' groin. You cannot tell me that the sculptor that produced this wasn't gay: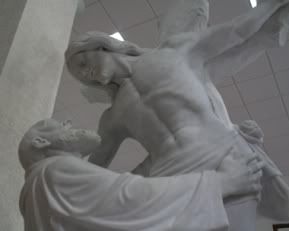 Joking aside, let's not forget what O'Malley stands for and the kind of fanatical, hate-filled rhetoric that he's spread from his Boston pulpit in recent years:


"The recent ruling of the Massachusetts Supreme Judicial Court which radically redefines marriage is a national tragedy" (in a statement that was to be read at all Masses celebrated in Massachusetts' four dioceses during the weekend of Nov. 29-30, 2003).

"The concerted campaign of movies and TV to reshape the public opinion into accepting same sex marriages has been a great disservice to the American people… Any redefinition of marriage must be seen as an attack on the common good" (Oct. 2, 2003).

"Despite the experience of all human cultures and the empirical data of sociological studies, the court ignores the fact that the stable, permanent relationship of a husband and wife is the optimal basis for child rearing. The court's decision will harm our children, who are entitled to be able to count on their parents' marriages as the secure foundation of their family lives" (Feb. 7, 2004).

"Should the Supreme Judicial Court's decision to redefine marriage as any voluntary union of persons become the law of the land, it would have an enormously negative impact on our society…

We are further concerned with proposals to give same-sex couples identical benefits and protections to those given to husbands and wives that pose a grave threat to religious liberty and the freedom of conscience. Whether the name used is same-sex marriage or civil unions, an equal treatment requirement in the constitution may be used to coerce private and public entities to adopt practices that would violate their values and understanding of the family and social justice" (March 10, 2004).

"An expansion of the definition of marriage will not benefit families but rather further erode the unique and important role that marriage plays in contributing to society. Much is at stake as we consider this matter, may God grant us the wisdom to do what is right" (Sep. 21, 2005).