Rembetiko of the Month
As a favor to a friend, I was all set to post Κουβέντα με τον Χάρο, written by Panatiotis Toundas (ca. 1885 – 1942) and recorded by Kostas Roukounas (1903 – 1984) in 1935. It's going to have to wait until next month, however, because the sordid business of
Haggardgate
brought to mind the lyrics of Μπαμπέσα, which
Roza Eskenazi
(ca. 1880s – 1980) recorded in 1934 with the great violinist Dimitris Semsis, aka "Salonikios" (ca. 1883 – 1950) along with an unknown mandolin and guitar.
Click here
to listen.
Σ'αγάπαγα καί έλεγα πως είχες λίγη μπέσα,
Μα σύ μου την κοπάναγες γιατ' ήσουνα μπαμπέσα.
Chorus:
Μπαμπεσικά τα μάτια σου, μπαμπέσα καί η καρδιά σου,
Μμαμπεσικά με κοίμιζες μέσα στην αγκαλιά σου.
Καθημερνώς μπαμπεσικά μ'εμέ συνεννογιόσουνα,
καί μ'είχες καί περίμενα καί μ'άλλον εξηγιόσουνα.
Φτάνει πλέον τις μπαμπεσιές καί βάλε λίγη μπέσα,
γιά νά σ'αλλάξω τ'όνομα νά μη σε λεν' μπαμπέσα.
Μη μου το λες μπαμπεσικά, πες το με την καρδιά σου.
Ξηγήσου μιά φορά σπαθί μπαμπέσα στο νταλγκά σου.
I loved you, though I had my doubts about you;
but with you it's always the same, you're always unfaithful.
Chorus:
Your eyes tell lies, and so does your heart;
and every night that I fell asleep in your arms was a lie.
Everyday you conspired to betray me;
even though I was yours, you were off gettin' some on the side.
Enough backstabbing, I want to trust you,
so that the whole world won't call you unfaithful.
Enough lies, tell me what's in your heart;
for once in your life, tell it to me straight.
Μπαμπέσα (bam-BEH-sa) literally means "unfaithful," but in Rembetika, it often has the connotation of "backstabber." That makes it an apt song for the pain that disgraced ex-pastor Ted Haggard has caused with his lies. The lyrics remind me the betrayal his wife must be feeling right now, thinking that the man she's called her husband for so many years has suddenly become a stranger to her.
However, the gay community also has a right to feel betrayed by Haggard. The rantings and political machinations of the Religious Right are bad enough, but when we learn that one of our most vocal opponents was someone who secretly turned to the gay community for personal gratification, we cannot help but feel betrayed by his μπαμπεσιές.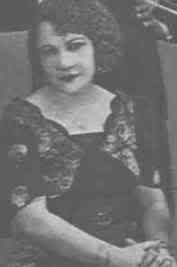 Μπαμπέσα is a good example of a Smyrnaïc song in makam Rast with a very Western sound (notwithstanding its periodic forays into makam Houzam), both in its overall melodic structure and in its instrumentation. It features an especially dulcid Eskenazi (pictured left) and is more reminiscent of an Italian-inspired καντάδα (cantata) than the
oriental melodies
and αμανέδες that were the mainstay of Eskenazi's repertoire.
Recommended Listening:
Roza Eskenazi: Rembétissa 1933 – 1936