Göz Lokumu

Last month
Will of
Designer Blog
asked me whether young men alone qualified as göz lokumu (eye candy). My response was to invite him to compose this month's post. He has written a wonderful piece on the
Poseidon of Artemision
(ca. 460 BCE, National Archaeological Museum, Athens), so named because this amazing work (shown above) was raised from the sea, off northern Euboea's Cape Artemision in 1928.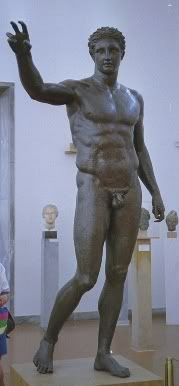 He begins, however, with an allusion to figures like the
Youth of Antikythera
(ca. 340 BCE, National Archaeological Museum, Athens), another fine bronze (shown right) depicting a well-built youth (possibly
Paris
). Like the
Poseidon of Artemision
, it too was raised from the sea floor, off the island of Antikythera in 1900.
~

The well-known Greek admiration for the human form resulted in some of the most beautiful images of young men ever created. But the Greeks had equal veneration for the male body as it passed through life, as muscles grew and hardened, bones developed and lines of character formed in the face, the languorous beauty of youth attaining the confident power of middle age.
I was in my early 20s when I realized that my personal standard for male beauty was directed at men a good ten to fifteen years older than myself—experienced, centered men who'd maintained their bodies, were at the height of their powers, sexual and otherwise—men who knew their way around.
When I first discovered the great bronze Poseidon in Athens, I recognized him immediately as my ideal: a handsome, beautifully proportioned and totally believable god poised to hurl his iconic trident (that has unfortunately) not survived antiquity. He stands today as fresh and powerful as the day he was created.
Poseidon's brother Zeus, King of he Gods, generally gets the major credit for divine philandering, but Poseidon more than holds up his end. According to one source, he impregnated twenty-six women in addition to his sister-wife, resulting in a total of at least fifty-two children. Among these are some very famous names like Pegasus, the winged horse (conceived with the gorgon Medusa while he was disguised as a stallion in what must have been a truly remarkable sexual encounter);
Polyphemus
, the Cyclops; Byzas (the legendary founder of Byzantium, which became Constantinople and eventually Istanbul); and
Pelops
and installing him on Olympus as his lover, eventually settling on him the gift of a great winged chariot as a token of his passion.
Poseidon is credited with causing earthquakes (or was that just the bed shaking?). He was he god of horses, seducing several women as a stallion (or was he just "horse-hung"?). And most of all he was god of the seas, ruler of the middle layer of the Greek cosmos with Zeus the Thunderer ruling the sky above, and Pluto ruling the Underworld below. Like his brother Zeus, Poseidon took as wife a sister, Demeter, the goddess of wheat and grain; together they reigned jointly as god and goddess of fertility.
In my adulthood I began seriously to question just what's supposed to be so "advanced" and superior about monotheism. I look at the Greek pantheon as a veritable guidebook to all aspects of human emotion and psychology from which we can learn far more about ourselves and our fellow beings than from the watered-down or thinly disguised versions that Christianity provides (Ares or Mars as St. Michael the Warrior Archangel, for example). When I visited Apollo's sanctuary at Delphi, as a gay man I felt instantly and completely at home there, as if embraced by the spectacular site and its ancient cult. When I look at the strong, handsome and majestic head of Poseidon, I have the same feeling and know that this is a god (in company with his modern day human descendents) I could truly adore.