Alluring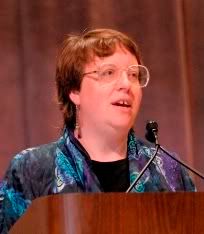 That might seem like a strange word to apply to
Grace Ross
, who is running for governor on the Green-Rainbow Party ticket. To the consternation of many of my friends and neighbors, I often vote third party. Yes, I've heard all of the standard arguments: "Don't throw your vote away," "You're giving votes to the opposition!" Blah, blah, blah, blah, blah.
Perhaps when I have more time, I'll devote a post to the importance of third party politics, but for now, I'm simply including a link to a great article on Grace Ross in today's
Boston Globe
. I've liked Grace Ross from the very start of the race. She is the candidate that most closely represents my values. She won't win. But paradoxically, that's exactly why I'm thinking of voting for her.
She has no chance of winning because the electorate has been trained to think that third-party/independent candidates aren't viable. Perhaps if more people (like me) vote for them, they'll begin to seem more viable and as a result will receive a larger share of the votes. By voting for Ross, I'm challenging the two-party system, which is as important a strategy to me as who becomes the next governor. It's not all about the short term. Besides, if casting a vote is based solely on the likelihood of a candidate's winning, then even a vote for Kerry Healey is likely to be a wasted vote, given Deval Patrick's commanding lead in the polls.
Click here
to read the article.
According to the article, "[d]uring Ross's visit to Massasoit [Community College], a custodian, a campus security officer, and a cafeteria worker sought her out to tell her they were thinking of voting for her." Therein lies the key to success. Her message resonates with the working class, who rightly feel that they've been given the shaft by the political establishment.
Ross's greatest asset is her message and its appeal to working class voters. Her biggest liability, as shown by recent opinion polls (above), is her lack of visibility (which is a direct result of her lack of funds). Compare the 46% of those polled who
don't know
anything about Grace Ross to the less than 15% for each of the other candidates. However, the fact that 28% of those surveyed viewed her favorably, compared to the only slightly higher 34% for both Kerry Healey and Christy Mihos is quite telling.
The real challenge facing any third-party candidate is getting noticed and getting what is often a very appealing message out in front of the voters. All the more reason why Healey should shut her damn
profiterole
hole about a one-on-one debate with Patrick.
Although Ross has only about 2% of the vote this time around, if she and other populist candidates like her can continue to mobilize large numbers of the working class and those who feel disenfranchised and alienated by the political process, then the poll numbers might look very different down the road.