La liberté est toujours indécente.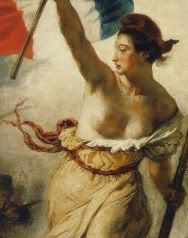 Happy Belated Birthday, America.
Seeing how America has been (mis)behaving both at home and abroad, I think that belated birthday wishes are all she deserves.
To celebrate our wayward nation's independence, Joe and I hung no flags nor made any big plans. Nothing other than an afternoon jaunt to the beach was on our agenda. However, liberty herself had other plans for us yesterday, and although it was completely unanticipated (more or less), we followed her lead and ended up doing something utterly subversive, irreverent, queer, whimsical, indecent, probably illegal, exhilarating, and un-American (at least according to the definition of those who have arrogated to themselves the authority to safeguard America's values and morals).
In the midst of a political climate in which America has been hijacked by people far more dangerous than the 19 who hijacked our airplanes on 9/11, we did something (together with a couple of lovely like-minded others) to celebrate the true meaning of the 4th of July; namely life, liberty, and the pursuit of happiness. We exercised our freedom. We paid tribute to the beautiful ideals upon which this nation was founded. We declared our independence from those who insist upon telling us how we should live, whom we should love, and what we should believe. In retrospect, we couldn't have planned a more patriotic evening had we tried.
We did what we did for no lofty reason; we did it because it was fun. However, in the context of an America that has become smitten with fascism, what we did possessed a symbolic value that made it all the more powerful, at least for me.
The image is a detail taken from
Liberty Leading the People
(1830, oil on canvas, Musée du Louvre, Paris) by Eugene Delacroix (1798 – 1863).
Liberty is always indecent.
Vive la Liberté!