Supreme Denial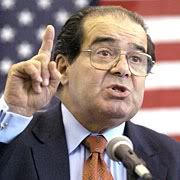 Obviously U.S. Supreme Court Justice Antonin Scalia hasn't seen Al Gore's
An Inconvenient Truth
.
In his ignorance, Scalia (shown left) might be surprised to learn that those of us who did see Gore's film and believe that global warming is going to have a devastating impact on our planet aren't able to
predict the cataclysm
, which is what he sarcastically demanded of James R. Milkey, the top environmental lawyer in the Massachusetts attorney general's office, who argued before the Supreme Court on
Wednesday
that the EPA's failure to limit greenhouse gases has had a detrimental effect on coastal areas in Massachusetts and worldwide. Massachusetts is one of 12 states
suing
the EPA for its 2003 decision that carbon dioxide emissions are not subject to regulation by the
Clean Air Act
.
Environmental advocacy like Gore's film and the science of global warming aren't about predicting the precise moment of the cataclysm, and neither is the current case before the Supreme Court. People like Scalia think they are scoring points when they get us to acknowledge that we don't know exactly when our coastlines will be inundated by
rising sea levels
or when the
Greenland ice sheet
will melt to the point that the
Gulf Stream shuts down
. We have no problem admitting that we don't know these things.
The science of global warming isn't about predicting the precise moment when climate change will produce a cataclysmic event. It's about documenting climate change that has
already
taken place (and continues to occur) and making predictions based upon those scientific observations. Scientists have offered some models based on past and current patterns, but the business of predicting future climate change and the impact it will have is tricky, though still within the realm of science. It is important to remember that evidence of past and current climate change offers clues to the future, not a crystal ball.
Contrary to what Scalia would have us believe, however, the inability of scientists to predict "the precise when" of climate change does not undermine the scientific findings that since the Industrial Revolution, atmospheric concentrations of carbon dioxide have increased 30 percent and that rising levels of carbon dioxide produce a "greenhouse effect," otherwise known as global warming.
In this specific case, the Supreme Court will decide whether the Clean Air Act requires the EPA to set stricter limits on greenhouse gas emissions on the grounds that they (auto emissions, for example) constitute "air pollution which may reasonably be anticipated to endanger public health or welfare." Also at issue is whether or not Massachusetts and the 11 other states have legal justification to challenge the EPA in court. The Court questioned whether or not Massachusetts could demonstrate that it has suffered sufficient harm because of the EPA's current standards on greenhouse gas emissions.
Gregory G. Garre, the deputy solicitor general representing the Bush administration, argued that stricter limits would have no appreciable impact on the various states, since the subsequent reduction of greenhouse gases would be small. Newly appointed justices Roberts and Alito seemed to go along with that argument. However, that kind of thinking shifts the burden of proof onto the regulations themselves, when in reality the Clean Air Act was written to place the burden on the pollution. If a form of air pollution can be reasonably expected to cause harm, then, the law states, it can be regulated.
Garre's argument seemed to rely on the fact that the United States alone cannot solve the problem of global warming. He is correct in his assumption that global warming is a complex problem requiring a global solution. However, that should not cause us to conclude that because the United States alone cannot solve the problem, we should do nothing. Changing our policies is not enough to reverse global warming if, for example, China does nothing to address its own greenhouse emissions. That type of reasoning should not be used as an excuse for inactivity, and, in fact, the text of the Clean Air Act was written to prevent that kind of inactivity. The Clean Air Act does not require that we singlehandedly solve the problem. The standard it sets for legal regulatory action is much lower than that.
Regulations such as limits on auto emissions do not have to demonstrate their ability to eliminate air pollution or reverse global warming. They must only show that they reduce air pollution that can be
reasonably
anticipated to cause harm. This should be relatively easy to prove based on patterns of climate change over the course of the last half century.
The United States cannot hide behind the fact that we are not lone players on the global stage. Nor can we sit idly by while temperatures and sea levels continue to rise. What is required is leadership, not denial. The United States cannot afford to adopt a custom-fit version of the classic "I'm only one person, what can I do? How could I possibly make a difference?" approach, the way someone might when choosing to ignore the homeless, but that is precisely what Garre seemed to be saying. Sure, we are one nation among many and we are not required to solve the problem by ourselves. However, we are required to stop contributing to the problem, so that we become part of the solution.