Whose Art?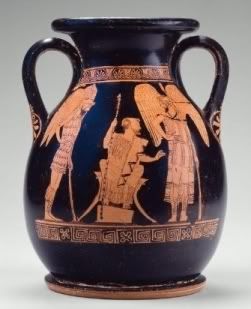 While I believe that the looting of art and the illegal trafficking of antiquities are to be condemned, I think hypocrisy is also to be condemned. This week, the Boston Museum of Fine Arts transferred to the Italian Ministry of Culture
thirteen objects
from its collection that the Italian government determined to have been looted and sold illegally to the MFA. A similar transfer occurred in February of this year when New York's Metropolitan Museum of Art returned twenty objects, including the 2500-year old
Euphronios krater
, to Italy.
Naturally, the objects were not returned because it was determined in principle to be wrong for an American museum to possess antiquities from Europe. The issue was that the lawful provenance of the objects themselves could not be demonstrated. The Italian government argued that they had been looted and were subsequently sold to the MFA by dealers who had themselves acquired the objects using sketchy means.
However, a case can be made that many of the world's antiquities residing in museums were, at some point in their history, removed illegally from their place of origin. Certainly this is true of the
Parthenon Marbles
(aka the Elgin Marbles) and many other antiquities from Greece that were unlawfully taken from Greece during the era of Ottoman rule and earlier.
For example, it should be noted that six of the thirteen objects returned to Italy this week were originally produced in Athens during the fifth century BCE. I doubt very much that the Italian government can prove that these six objects were lawfully removed from Greece in the first place. It cannot possibly be demonstrated that they were legitimately purchased from the Greek state (since the Greek state did not exist prior to the first quarter of the 19th century) or from the artist or the original Greek owner (since no bill of sale exists).
While it is possible that they were transferred to Italy by means of legitimate trade at some point during their long history, there is no documentation demonstrating this to be the case. What is perhaps more likely is that these six objects were looted from Greece
before
they were looted from Italy and later sold on the black market. In that case, shouldn't they be returned to Greece, rather than Italy?
Shown above is one of the thirteen returned objects: a
two-handled jar (pelike) depicting Phineus with the sons of Boreas
(Ceramic, Red Figure, Greek, Classical Period, ca. 450 BCE, the Nausicaa Painter, Place of Manufacture: Athens, Attica, Greece).